When you think of waterbombers, you probably think of the well-known, often yellow painted, Canadair CL-415 Super Scoopers and its predecessor, the CL-215 Scooper waterbombers. In Greece, you can find the CL-415GR waterbombers, but also another rarely seen type of aircraft in military service: The Polish built PZL-Mielec M-18 Dromader. The Hellenic Air Force currently operates a fleet of M-18 and M-18BS Dromaders mainly for fire-fighting missions.
Originally, the Hellenic Air Force took delivery of a total of thirty M-18 single-seaters, with the first eight being delivered in March 1983 and the last aircraft arrived at Dekalia Air Base in January 1984. The Dromader fleet was supplemented with three more M-18BS dual seaters for training purposes in 2002. Through the years, a few Dromaders were lost due to various accidents and nowadays the fleet consist of 18 single seaters and the later acquired three dual seaters.
All the Dromaders are assigned to 359 MAEDY (Monada Aeroporikis Eksipiretisis Diomosion Ypiresion/Public Services Air Support Unit) at Dekelia Air Base. The airbase is located just north of the city of Athens. 359 MAEDY has regular detachments on various airbases all over Greece and can deploy to any airfield near fires if required.
Brief history 359 MAEDY
359 MAEDY was established in March 1968 and operated initially with six Bell 47G-3B-2 and twelve Bell 47G-5 helicopters for crop dusting tasks. 359 MEADY later merged with 357 Helicopter Squadron at Elefsis Air Base In November 1969. One year later the unit relocated back to Dekelia Air Base. Between 1970 and 1972 two more AB.47G-5 and four OH-13A helicopters were added to the inventory. The OH-13A helicopters were used for training crews. The unit also received special equipped C-47A/B Dakotas for crop dusting operations.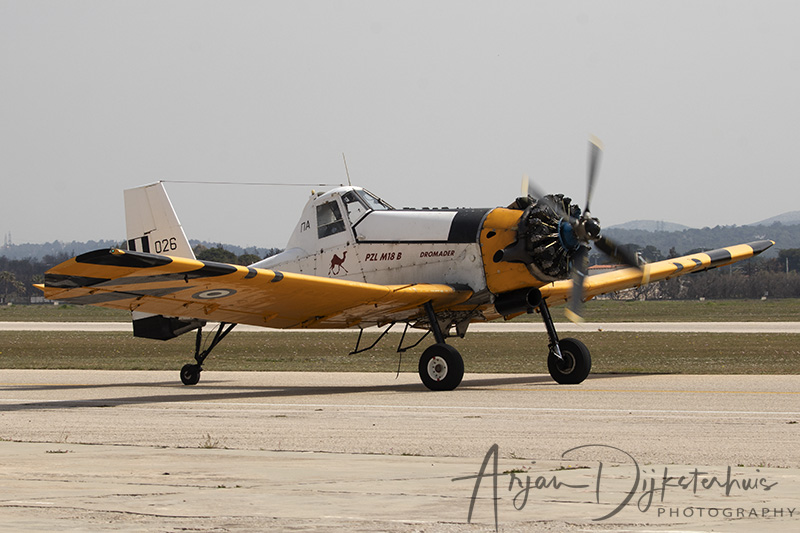 In May 1974, ten crop-dusting Grumman Schweizer G.164G aircraft were purchased and added to the inventory. Twelve more G.164G Super Ag-Cat crop dusters arrived in March 1976. They were also very capable for firefighting with a capacity to carry 1893 litres of water. Twelve years later, in 1983, the first M-18 Dromaders arrived. The Super AG-Cat crop dusters fleet was withdrawn from active duty in 2011. One of the Grumman G.164G Super Ag-Cats, carrying serial 1260 is preserved, and can be seen outside the Hellenic Air force Museum at Dekelia Air Base.