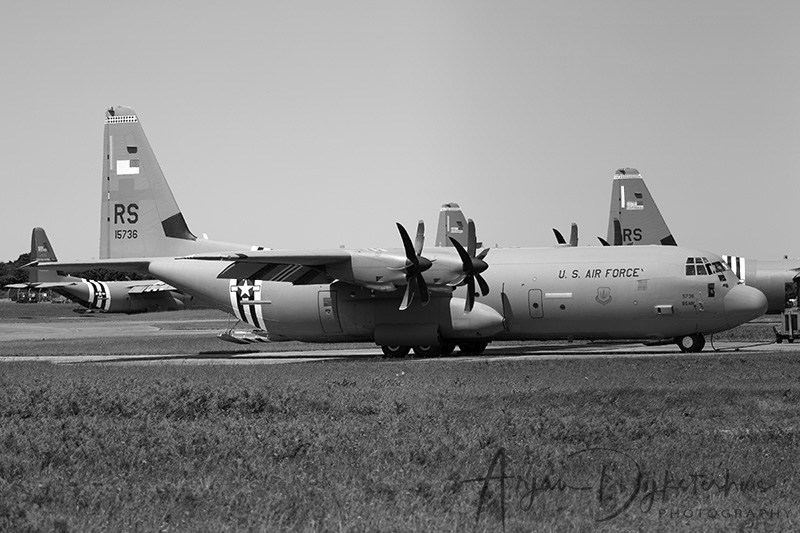 In the first week of June, the Normandy coast was the centre stage for the 75th anniversary commemorations of the D-Day invasion in 2019. Besides a variety of military aircraft, both US Air Force and Army, several other allied aircraft also found their way to Cherbourg Maupertus Airport, France, to take part in the many fly overs and droppings that were scheduled.
Several Hercules aircraft operated out of the airport: The 37th Airlift Squadron from Ramstein Air Force Base, Germany, brought Four C-130J-30 Hercules aircraft with them. Three Hercules aircraft arrived from Little Rock Air Force Base, Arkansas, and a pair from Dyess Air Force Base, Texas. Back in 1944 the 37th Airlift Squadron operated as 37 Air Troup Squadron, flying the C-47 Skytrain. The unit was actually involved during D-Day, dropping paratroopers near Sainte-Mère-Église. The Skytrains received the W7 code on the fuselage.
Three C-130H aircraft from the 96th Airlift Squadron at Minneapolis-St. Paul Air Reserve Station, Minnesota and two C-130H's from the 123rd Arlift wing from The Kentucky Air National Guard participated as well. However, the five shorter C-130H's operated out of Evreux, together with the other allied aircraft. Only the longer C-130J's operated out of Cherbourg due to a lack of parking space at the airport. The civil part of the airport remained open for commercial flights and was also used for the transportation of high ranking officers and officials. Black Hawk helicopters from the US Army were used to fly them, from and to, several locations in Normandy.