Freedom is taken for granted by many. Although, the current situation in the Ukraine proves otherwise and confirms that armed forces must be prepared to deploy at any time. Nowadays international conflicts cannot be solved by just a single country alone, thus training with allies is necessary. An exercise like Frisian Flag provides pilots a realistic training on an international level.
Base commander Air Commodore van Deventer stated: "We train like we fight; together! For that reason, Frisian Flag is an important international exercise in which NATO partners jointly practice realistic large scale scenarios. Recent developments have show again that NATO air assets must and can be deployed rapidly and operate as an integrated team as from day one. That takes practice. With Frisian Flag we demonstrate our allied cohesion, and deter potential enemies".
"We train like we fight; together!"
Frisian Flag was held at Leeuwarden Air Base, the Netherlands, between 28 March and 8 April. Participants from Canada, France, Italy and the United States of America gathered at Leeuwarden Air Base for two weeks, to train together with host nation the Netherlands. The Luftwaffe (German Air Force), flying with Eurofighters and Royal Air Force Typhoons participated as well, but operated from their home base instead. Poland however withdrew their participation of both the F-16s and Mig-29 Fulcrums due to obvious reasons.
The Frisian Flag supervisor, callsign 'Joker', stated that "Frisian Flag is always a great exercise to train large force air operations. Flying with different types of aircraft and pilots from coalition countries makes it a great challenge and learning experience for all involved. After being unable to execute Frisian Flag for two years due to COVID, it is great to see all those jets and people again at Leeuwarden"
The Canadian Armed Forces arrived at Leeuwarden Air Base with multiple delays due to technical issues with three of their fighters. A total of six CF-18 (CF-188) Hornets from both 425 and 433 Tactical Fighter Squadron at 3 Wing Bagotville, Québec, Canada and approximately 130 personnel found their way to the exercise. One of the pilots stated that "this type of exercise is an important tool through which we and our NATO Allies test and validate concepts, procedures, systems and tactics, and practice working together efficiently in demanding scenarios".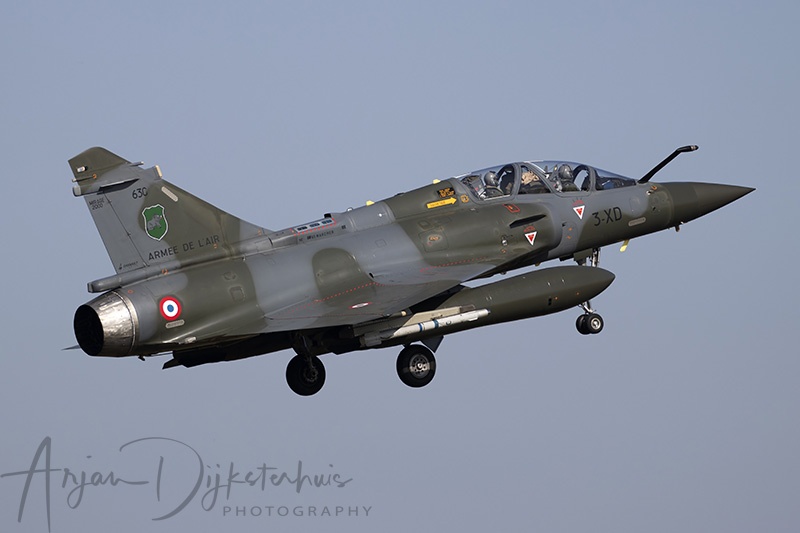 The Armée de l'Air et de l'Espace participated with five Mirage 2000Ds wearing markings of both EC02.003 and EC03.003 from Nancy-Ochey (BA 133). Three Aeronavale (French Navy) Rafale Ms, based at Landivisau including one still wearing the 2021 Tiger Meet livery were also present.
6º Stormo, based at Ghedi, Italy, is the only Stormo still flying the Tornado within the Italian Air Force.  A pair of Tornado IDS fighters arrived at Leeuwarden and participated during both weeks of the exercise. On the other hand, the two Eurofighters from Istrana based 51º Stormo, 132 º Gruppo, joined only for just the first week of the exercise.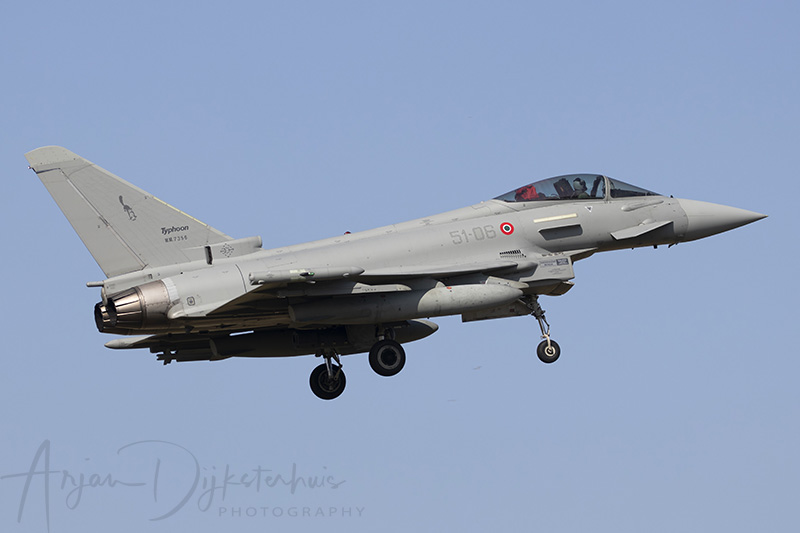 No less then twelve USAFE (United States Air Force in Europe) F-16s, assigned to the 510th Fighter Squadron, 31st Fighter Wing at Aviano Air base, Italy, were already deployed to RAF Lakenheath in the United Kingdom arrived from RAF Lakenheath at Leeuwarden Air base.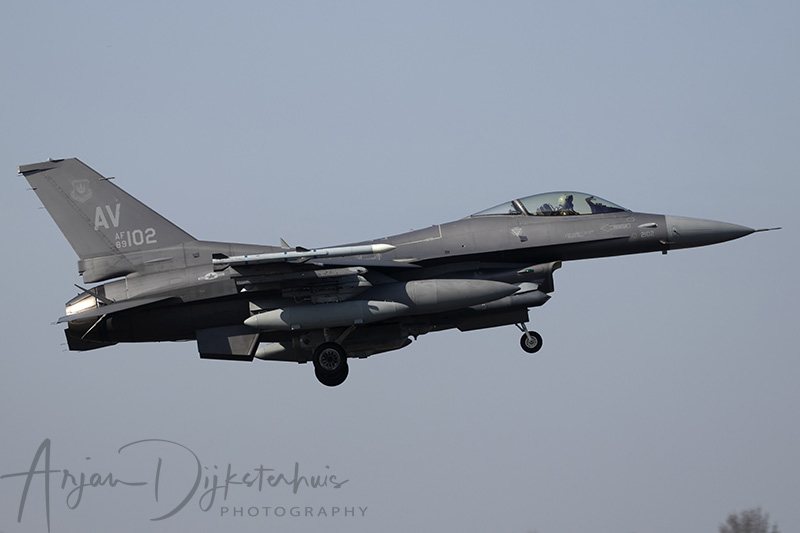 Host nation the Netherlands flew with both the F-16s and the F-35s during the exercise. The F-16s arrived from Volkel Air base, operated by 312 Squadron. Leeuwarden based 322 Squadron, participated Frisian Flag for the first time flying the F-35.
The exercise area was in the airspace of both the Netherlands and Denmark, including the large training areas above the North Sea. Tactical air control was led by both the Dutch and the Danish Control and Reporting Centre (CRC). Additional coverage was provided with the E-3A AWACS (Airborne Warning and Control System) detection and command aircraft from the NATO as well as France.
The aim of the course is to develop leadership skills among the participants. It is expected to display both leadership and precision, also in terms of rules of engagement (ROE). Every day, the missions were planned, led and evaluated by a different participant, resulting in a challenge and training in all aspects of the mission for each pilot. Several scenarios were practiced such as air defence, gathering information, supporting ground units or supporting special operations. Thorough briefings, debriefings and analyses give the course a steep learning curve. The lessons from the previous day are put into practice the next day with larger and more complex scenarios. In this year's edition a few AH-64D Apache and AS.532U2 Cougar helicopters joined the exercise for another dimension.
The pilots had to co-operate with JTACs (Joint Terminal Attack Controllers) at the ground and also had to cope with various threats including ground assets such as a Russian built SA-6, NATO name 'Gainful' mobile surface-to-air missile system which was situated at the gunnery range Vliehors while a SA-8 (NATO codename Gecko) low-altitude, short-range surface-to-air-missile system SA-8 was placed near the Marnewaard, a large military training area, including a village, in the North of the Netherlands. Inflatables were also in place on locations.
During these two weeks, two waves with around up to twenty-seven aircraft were scheduled to take off each day. Unfortunately, the weather did not co-operate and resulted in the cancellation of several missions.
Air-to-air refuelling capacity was provided with Airbus A330-MRTT (Multi-Role Tanker Transport) tankers from both Eindhoven Air Base and Forward Operating Base Cologne, Germany. Tactical air control was led by both the Dutch and the Danish Control and Reporting Centre (CRC). Additional coverage was provided with the AWACS (Airborne Warning and Control System) detection and command aircraft from the NATO as well as France. A Draken operated Falcon 20 took part in the exercise for electronic warfare duties.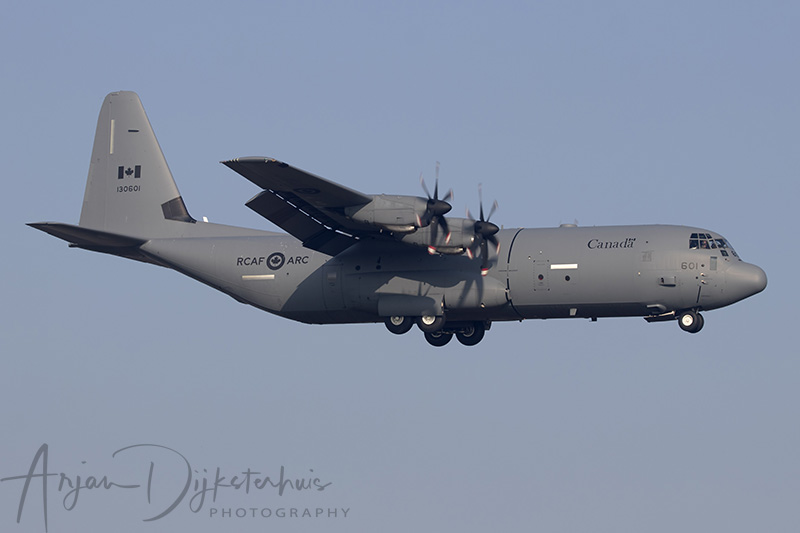 No training without transport. Various transport aircraft visited Leeuwarden Air Base prior, during and after Frisian Flag. Two of them are depicted here.
---