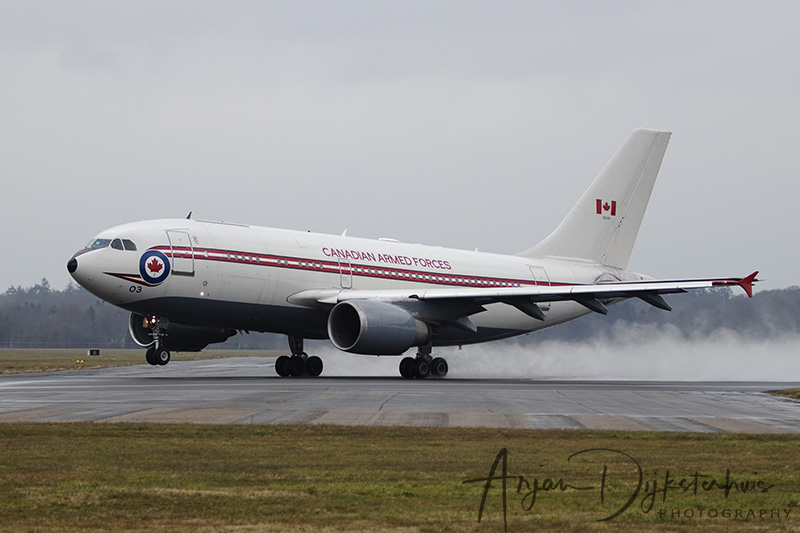 In the evening, on the 13th of March, A Royal Canadian Armed Forces CC-150 Polaris made a rare appearance at Groningen Airport Eelde, the Netherlands. The CC-150 Polaris, with serial 15003, arrived during the weekend with personnel in support of the Frisian Flag 2022 exercise that was scheduled to start later that month at Leeuwarden Air Base.
The CC-150 Polaris with serial 15003 is one of the five Polaris aircraft operated by 437 Transport Squadron. Two of them are equipped for air-to-air refuelling. 437 Squadron is based at Canadian Forces Base Trenton since 1961.
The next day it continued its journey to Naval Air Station Sigonella at Sicily, Italy.
One week later, another CC-150 Polaris (serial 15002), departed from CFB Bagotville, Quebec, Canada, in support of the Frisian Flag exercise. It arrived on Sunday evening the 20th of March, at around 22:44 hours. The Canadian Armed Forces are participating in Frisian Flag with six CF-188 Hornet fighters. These fighters however, crossed the Atlantic Ocean with the help of an Omega Air Refueling Tanker instead of the CC-150s that are equipped for air-to-air refuelling. One CC-150 can bring up to four CF-188 Hornet fighters across the Atlantic Ocean.